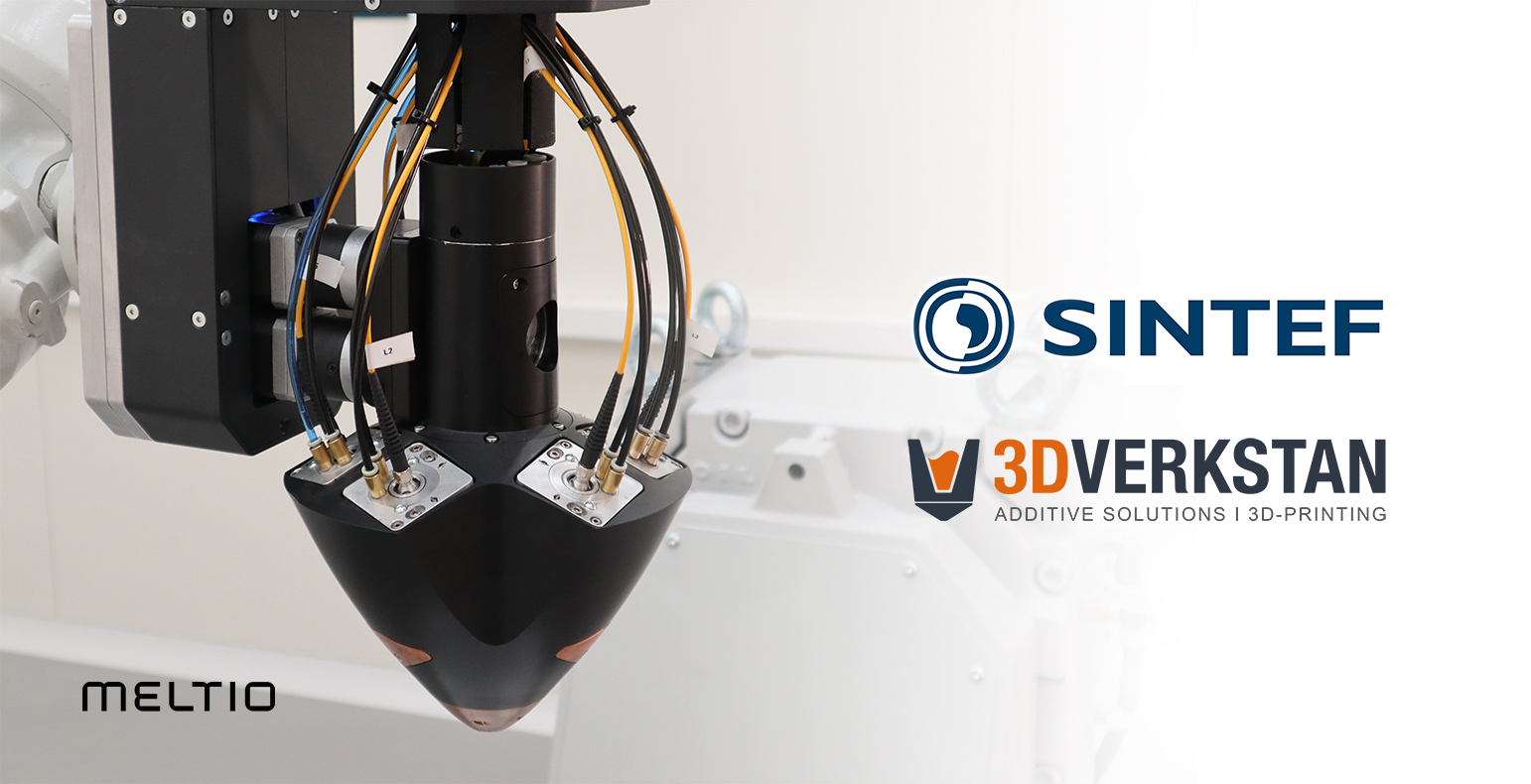 ---
3DVerkstan is excited to share that the Metal Additive Manufacturing research group, at the Norwegian research foundation SINTEF, are incorporating the Meltio Engine Robotic Integration system into their development centre.
The Metal Additive Manufacturing research group at SINTEF originated in the early 1990's, and has since been active in various projects, from innovative process development to applications, process integration and industrialization. 
– An industrial class Directed Energy Deposition (DED) system to complement the capabilities for research on industrialization of metal AM processes has been on the wish-list for SINTEF Manufacturing for several years, says Vegard Brøtan, Research Manager for the AM group at SINTEF Manufacturing. 
The Meltio system's capability to process both wire and powder feedstock material was an apparent perfect match for these needs. The versatility of Meltio's solution enables investigation of a great variety of potential applications for different industries. Meltio offers an open system which facilitates integration with complementary technologies for more complete, and cross disciplinary, manufacturing solutions. 
– This brought together researchers from three of SINTEF Manufacturing's core competence areas. Expertise in additive manufacturing, automation and materials' science, will be combined with the objective to build a hybrid manufacturing robot cell, Brøtan explains.
The Meltio processing equipment will be combined with an industrial robot, in-process monitoring and adaptive control for the build operation, and a 3 kW grinding spindle. Brøtan concludes:  
– A practical solution, for cutting edge research as well as down-to-earth applications' development, and will significantly expand our capabilities and correspond to the needs of our customers, from Norway and elsewhere.
3DVerkstan is proud to be partnering with SINTEF and Meltio, as this is a prominent step in building an ecosystem for Meltio's technology in the Nordic region – which is achieved by collaborating and running business opportunities together with integrators, universities and research and technology centres around Scandinavia. We are truly looking forward to continuing the creation of this ecosystem.
About SINTEF Manufacturing
SINTEF is Norway's leading independent research organization, offering contract research and development for the private and public sectors over a variety of fields. SINTEF Manufacturing, is a subsidiary of SINTEF foundation, dedicated for research in manufacturing and production technology, from basic research to industrialization. The model of operation is to serve as a one-stop hub for expertise, in order to combine generic research topics with practical industry knowledge, to solve complex multidisciplinary issues for Norwegian and international customers.
About 3DVerkstan
Since its inception in 2014, 3DVerkstan has been a strong driving force for additive manufacturing in Sweden and the Nordic countries, including the Baltics. With a knowledge-based and cohesive team, we use, challenge and develop today's 3D printing techniques and applications. Through close collaborations with industry-leading 3D solution companies, we ensure product quality as well as service and support. We have customers all over the world through our network of resellers.
KONTAKTA OSS
Vill du veta mer om Meltio eller önskar info om vårt övriga utbud, fyll i formuläret nedan så återkommer vi snarast.
Vill du hellre ringa finns vi på plats helgfria vardagar kl 9-17 på nummer 08-55115750.