» OUR TOP 10 FINALISTS HAVE BEEN CHOSEN – FIND THEM HERE. «
We are overwhelmed by all the amazing designs sent in to us during the summer. After great consideration, we have chosen our top 10 finalists that will pitch their project to our jury. A big thank you to everyone that showed interest in the Metal X Challenge 2021! 
---

Are you an engineering student, or any other student with a keen interest in 3D design and additive manufacturing, and enrolled at a Swedish University?
Now you have the opportunity to sharpen your technical design skills, showcase your work for industry leaders and win a Markforged Onyx One 3D printer with a value of almost 60.000 SEK
Together with Markforged, a leading producer of industrial 3D printers and software, we at 3DVerkstan are hosting a technical design competition aimed at Swedish university students. The challenge is to create a functional 3D designed model suitable for metal 3D printing with Markforgeds ADAM-technology. We are looking for innovative designs that will utilize the full capacity of the Metal X printer from Markforged, as well as considering the limitations. 
To fully introduce you to the competition we will host a mandatory kickoff webinar on June 17th at 11.00. This will be a 1 hour webinar with both 3DVerkstan and Markforged where we will present the challenge, talk about the technical requirements and how to design for ADAM. There will also be a Q&A in this session, so bring all your questions. Note that attendance is compulsory for participation. Read about all the steps here.  
You will have all summer to prepare your designs before the deadline on September 2nd. From all the submissions sent in, only ten designs will be in the run to win. These top ten will get the opportunity to present their project for a special jury consisting of members from the engineering and additive manufacturing business, as well as representatives from Markforged and 3DVerkstan.
---
SIGN UP IS CLOSED. Looking forward to your submissions!
---
---
AND OF COURSE WE HAVE A (TRULY) GRAND PRIZE:
» 1st place: Your very own Onyx One printer from Markforged together with three spools of material (total worth: 59,785 SEK incl. VAT). Beyond this, the university attended by the winner will receive an agreeable discount on a metal or composite system from Markforged. 
» Top 3 will get their designs printed and promoted by both 3DVerkstan and worldwide by Markforged. 
» Everyone sending in a valid submission will receive a goodie bag  and a diploma.
---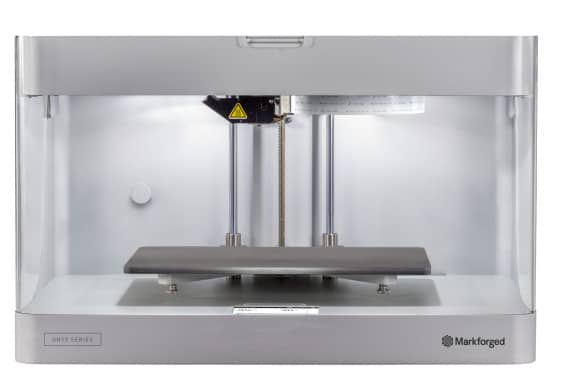 REQUIREMENTS FOR PARTICIPATION:
You must be a student attending a Swedish University or Higher Vocational Education.
(You can still attend the contest even if you graduate this summer.)
Only one entry per participant. 
We reserve the right to postpone the dates or the competition.  
We'll use your application and description about your application for marketing purposes.
ADAM – Atomic Diffusion Additive Manufacturing
ADAM is an end-to-end process that starts with a plastic-bound metal powder that is formed into a 3D shape, one layer at a time. After printing, the part is washed in a debinding solution and sintered in a furnace. The sintering step burns off the plastic binder and causes the metal powder to diffuse together.
Three-dimensional printing with ADAM-technology can create metal parts with high accuracy, making it a valued contribution in the manufacturing of end use parts, legacy parts, prototypes, and tooling.
The Metal X is Markforged's industrial quality ADAM machine built on a fourth-generation printing platform, designed from the ground up to reliably shape beautiful metal parts. The Metal X System is the most accessible way to quickly fabricate complex metal parts in a variety of metals. It enables you to print with a wide range of materials from stainless steels to copper with minimal training on an intuitive workflow.
ADAM – Advantages and Disadvantages

Most parts printed with ADAM are not fully solid - they include triangular infill. This can be both an advantage and a disadvantage - it means lighter weight parts, at the cost of full density. For small geometries, fully dense parts are printable.
Unlike most other metal printers, ADAM machines do not expose users to loose metal powder - resulting in a safer, easier to use system. The machines are usable with a wide variety of materials that can be easily swapped out for one another. ADAM has the same geometric constraints as standard FDM printers.
FAQ
What kinds of materials can be 3D printed with ADAM? The ADAM process can support a variety of metals. Stainless steel (17-4), tool steels (A2, D2, H13, and Inconel 625) and Copper are currently used.
What is the difference between ADAM and other 3D printers? ADAM is a combination of traditional FDM 3D printing and Metal Injection Molding (MIM). The primary difference in comparison to other 3D printers, the process utilizes post processing units - a wash and a sinter - to debind and solidify the printed part into a metal component. Additionally, the printer is purpose built to handle Markforged specialized metal filament.
What is a sinter furnace? A sinter is a specialized furnace that bonds metal powder particles together through heat and pressure.  The sintering furnace has two primary stages: a debinding phase and a sintering phase. The debinding phase heats the material to a low temperature to remove the residual binding material used to hold the part together in the printing process. The sintering phase ramps up the temperature to below the melting point to tightly bond the metal particles together.
When the binder is burned off, does the part become smaller?  Yes. The part(s) will experience a loss of material and, therefore, shrink due to the heat and pressure. However, the shrinkage is controlled by scaling the STL by roughly 17 % in the software slicing phase. The shrinkage is highly repeatable and predictable when following the guidelines of the ADAM design guide.
Some useful links:
A Revolutionary New Way to Manufacture Metal Parts
3D Metal Printing Technology and Processes: An In-Depth Look