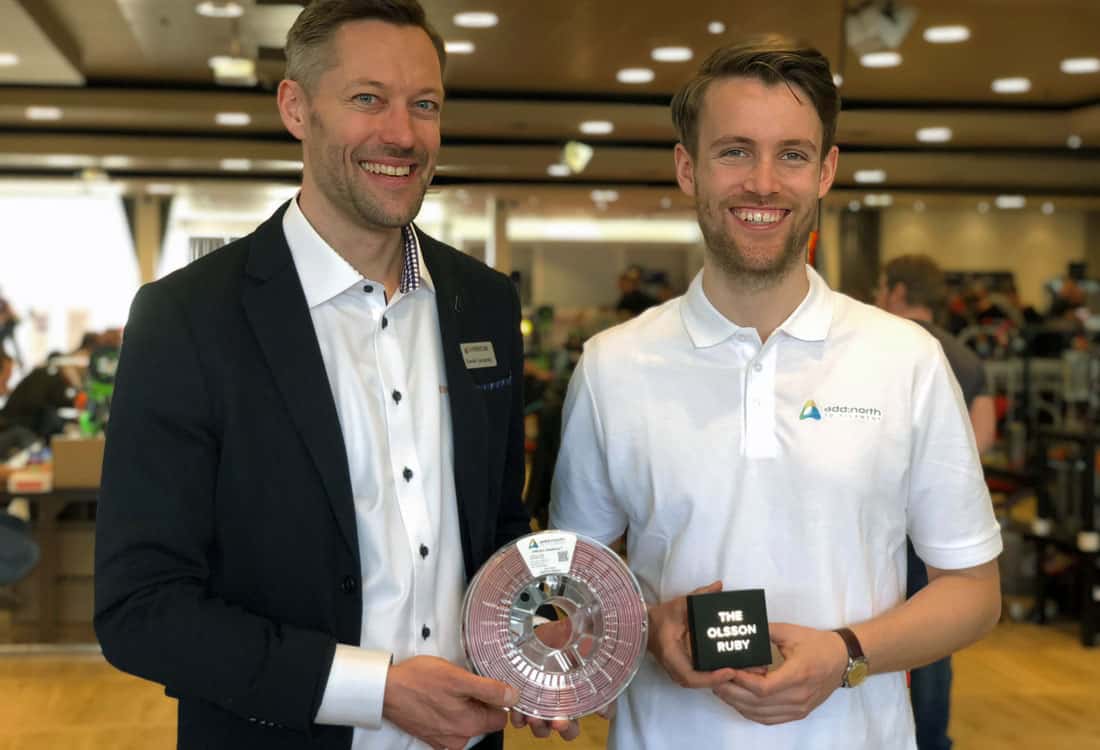 Daniel Ljungstig, CEO at 3DVerkstan, and Nils Åsheim, CEO at add:north.
---
3DVerkstan, a leading knowledge and solutions company in professional 3D printing, and Nordic/Baltic distributor for Ultimaker, Formlabs and Markforged, has joined forces with the Swedish filament producer add:north in a bid to jointly develop new and unique filaments to be produced in Sweden.
In the agreement, 3DVerkstan will become a Nordic and Baltic distributor for add:north's materials portfolio, including a new matte and fibre reinforced PLA filament, specifically developed for architectural models. The yet unnamed material will be released in various colour versions during the second quarter this year.
– The main reason for joining forces with add:north is that they excel in their knowledge of developing 3d printing materials. They also have an impressive growth rate and an ambitious road map. Their focus on knowledge and superior quality is in line with 3DVerkstan. Together, we will be able to develop and market new and unique materials, that enable our customers to print products that have previously been impossible, says Daniel Ljungstig, CEO at 3DVerkstan.
As part of the new agreement, 3DVerkstan will also distribute and sell add:north's unique concept for recycled PLA – RE:ADD. Using RE:ADD, customers are able to send waste PLA to add:north, who will use it to manufacture new PLA. RE:ADD has already drawn attention from Swedish architects and schools, who see the concept as an important part of the circular economy philosophy.
3DVerkstan and add:north will also work closely in R&D, with a joint ambition on developing both aesthetic and functional materials for special components in areas such as neutron shielding, electrical conductivity, as well as cold and heat dissipation.
Lastly, in the agreement add:north will become an official reseller of 3DVerkstan's nozzle for abrasive materials, the Olsson Ruby.
– 3DVerkstan is an institution on the Swedish 3D scene, and they have been at the forefront of development for many years, says Nils Åsheim, CEO at add:north. Their focus on quality, knowledge and R&D, make them an ideal partner for us. With their help and expertise, we are able to grow internationally and, at the same time, get valuable input to our product development. Together, we will create a better stronghold for the technology in Sweden, as well as globally.